Do You Know Your Representative?
There might be a time this legislative session, where your voice might need to be heard. Use this link to find your state and national representatives. Government only works when it's FOR the people, and BY the people.
Check out IHEN's Library for more book recommendations. Or subscribe to the IHEN-Books e-list to just "talk books" with other homeschoolers.
IndianaHomeschoolers E-list
Events Calendar
Let Hoosier Homeschoolers know
what's going on, where, and when.
No need to be a list subscriber.
Fun Book of the Month!

Sometimes you just have to say, "Get it."
So what are you waiting for? Click the picture! This is a wonderful book with all of the projects a boy needs to know before childhood is over. From tying knots, to building forts. From Pirate Flags to great moments in history.
It's a curricula for life!

This book is becoming a favorite for the kids who don't think they like math. Remember Winnie from the TV show "The Wonder Years?" Yup, this is her. Math Geek!
This book explains math so that it doesn't... well, suck.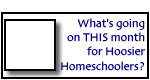 ---

Give Thanks by calling 800.457.4292 and show your support for our troops in Iraq and Afghanistan! $20 will say a lot!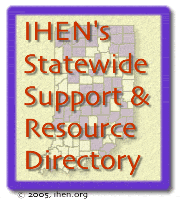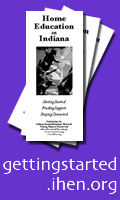 Just starting out, or thinking about homeschooling?
Read "Getting Started: You can homeschool your child."
Then check out IHEN's New Homeschoolers pages.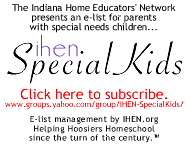 IHEN-SpecialKids is an e-list community for parents who homeschool special needs children. Staffed by our IHEN Special Needs Advisors (SNAs) and perfectly suited for the more detailed questions and answers you're looking for.
IHEN: Helping Hoosiers Homeschool since the turn of the century™.
Yes!



We Get Letters
We are getting some pretty interesting mail. Some are not what many would expect. If the mail we get is any indication, Hoosiers are Homeschooling in record numbers. Most are also not homeschooling for the usual reasons. A few are even getting shoved into it. Read some excerpts from our mail bag.
Can't find what
you're looking for
on our site?
Try our new
SEARCH PAGE
by Google™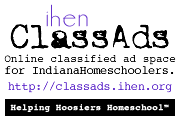 ---
Important information for LIBRARIANS!
The newest statewide e-mail discussion list for single parents interested in homeschooling support and advice from your unique perspective.
Managed by IHEN Web Services
---

Riley Hospital for Children, educational programs and materials for instruction.
IHEN Statewide Support and Resource Directory. www.ihen.org/directory/