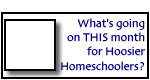 GET OUT!
Meet People...
Go Places...
See Things.
Here are the latest resources for homeschoolers. Workshops, classes, field trips and more. If you are interested in promoting your service or event of interest for homeschoolers, write to: Calendar@ihen.org, or you can click on the"Add an Entry" link above.
If you would like to advertise with IHEN, write to: Advertising@ihen.org.
Here's another option:
IndianaHomeschoolers E-list
Events Calendar
Let Hoosier Homeschoolers know
what's going on, where, and when.
No need to be a list subscriber.

2006
January | February | March | April | May | June | July | August | September | October | November | December
January
Now - Jan. 26
Marion County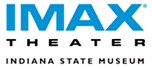 "The Polar Express: An IMAX 3D Experience"
Children's Museum Member Offer Now – Jan. 26. See this IMAX® blockbuster! Present your Children's Museum membership card at the IMAX Theater box office and receive $1 off admission. Limit 6 people per card.
February
All Month
CONTESTS FOR HOMESCHOOLERS
All the ending dates are February 28, 2006.
Feb. 4, 8:45 - 10 am
Marion County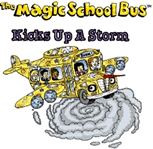 The Magic School Bus Kicks Up A Storm™ Members Sneak Peek! At the Indy Children's Museum.
FREE! (for members)
Be among the first to hop aboard The Magic School Bus and join Ms. Frizzle and friends on the most exciting adventure of all... a hands-on exploration into the wonders of weather. You can "mix" up your own weather, learn how to measure lightning and more!
No R.S.V.P. required; please present your membership card at the entrance on Level 1. Read the Newsletter.
Feb. 25 - 26
Parke County
Maple Syrup Fair: Parke County Chamber of Commerce
Feb. 27, 6:30 - 8:00
Delaware County [Muncie]
Building a Better Homeschool Community in ECI
DCCHC and Muncie's Minnetrista Cultural Center are joining up to offer a program for all homeschooling families in the ECI area. It's is called "Building a Better Homeschool Community in ECI." We have two goals for the time that will serve both new and experienced homeschoolers with children of all ages.
First, we are putting together a panel of people in the area that will present various homeschool resources. Some of our presenters include the Burris Lending Library, BSU's Homeschool Liaison, The Muncie Children's Museum, Ben Bennett and Jane Casey from IHEN and IndianaHomeschoolers, and Rita Moore's Science Classes.
There will be time for Q&A with our presenters and gathering materials on many other organizations as well. Secondly, we will have a chance to interact with organizations like Minnetrista to help them better serve the homeschool community. This is a great opportunity for us to offer input and help shape their programs. We want to strongly encourage as many homeschool families as possible to attend. In order to make the most of this time we are asking for only adults to attend. Snacks and drinks will also be available. Please direct any questions by e-mail to Andrea Replogle.
Directions are available on the Minnetrista Center's web site.
To keep up on other events happening in Delaware County and East Centeral Indiana, Join the HomeschoolCOCO e-list.
March
March 3-5

HOME SCHOOLERS COME AND DISCOVER ROSEDALE!
Where do you belong? Check out Rosedale Bible College. Discover Rosedale is an opportunity for you to meet professors, attend classes and experience dorm life at RBC. Highlights of the weekend include an a cappella concert by the Zambian VocalGroup, and a late-night pizza party with games and sports.
Call 740.857.1311 for more information, or visit www.rosedale.edu and register online.
Please reply before February 24th
This important information provided by Harvest Home Educators and the Homeschool College Connection.
March 4 - 5
Parke County
Maple Syrup Fair: Parke County Chamber of Commerce
March 10-11
Chicago
InHome (formerly HOUSE) Homeschool Conference
The 9th nonsectarian InHome (formerly HOUSE) Homeschool Conference starts March 10 and 11 at the Sheraton Chicago Northwest in Arlington Heights, northwest of Chicago.
"This is always my yearly shot in the arm to help me know I'm doing the right thing and am still on track." -- Past conference attendee
The conference will include over 150 children's and 70 adult workshops. The Vendors Hall (over 50 Vendors), as always, is open to the public. Check their websites at: www.homeeducatorsconference.org
New this year: - Tapes/CDs of workshops available for purchase - Parent Chat Room - Teen Poetry Slam - Talent Show Not to mention the ever-popular Science Fair, Children's Craft and Flea Market, Family Dance with dj and a special performance by the Muntu Dance Theatre of Chicago, showcasing the art of West African dance. For more information go to: www.homeeducatorsconference.org. Or you can e-mail Maureen O'Grady
March 11
Marion County
DEADLINE: IMA Discovery Series Program featuring Faces, Places, and Spaces
See April
March 18

Marion County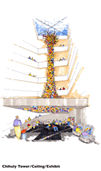 Fireworks of Glass Opens March 18!
Fireworks of Glass is the largest permanent exhibit ever created by renowned artist Dale Chihuly. The museum will unveil the Fireworks of Glass tower — a 43-foot-tall sculpture constructed of more than 3,000 pieces of blown glass — March 18. The tower will rise above a "floating" glass ceiling, with an interactive glass art exhibit below.
For the past four decades, Dale Chihuly has traveled, adventured and created art all over the world. He is credited with revolutionizing the Studio Glass movement, introducing the practice of working with a team and using a division of labor within the creative process. Chihuly's installations in 32 states, plus a dozen countries around the world, have attracted millions of fans.
Fireworks of Glass will be Chihuly's first permanent installation at a children's museum.
March 24 - 25
Marion County
IAHE Statewide Homeschool Convention
Children's Conferences International (The children's component of the IAHE Convention. Ages 6-12.)
March 30, 10am - 3pm
Marion County

Eagle Creek Nature Center Spring Home School Jamboree
Ages 8y & up
Cost: $10.00 per student.
Pre-registration required by calling 317.327.7148
Download these PDF documents for your support group's bulletin board or field trip organizer: Spring Jam Flyer, Spring Jam Letter, Spring Jam Program, Spring Jam Sign Up Sheet.
Contact Dawn Davis by e-mail or phone 317.327.7148 for more information.


Check out Dinosaur World!
April 2008 is homeschooler's month, with special rates or programs for all homeschoolers!
Click the image below for more information.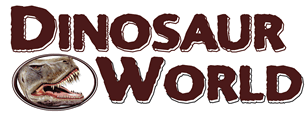 April 7-8
Washington County
Eric Hovind, Intelligent Design Seminar
[Download PDF Flyer with more information]
Eric is a highly motivational speaker, especially among young people, and there will be a question and answer period so that you can get the information you need on this critical topic.
He is speaking in Salem Indiana April 7th & 8th at the Salem High School Gym, Friday Evening 7-9 and Saturday from 10am-9pm with breaks. He speaks nation wide, but we are privledged to have him for this short time. Please contact Anita Conrad with any questions.
April 8 & 9
Tippecanoe County
FESTIVAL: Spring Fest 2006 -Let's get Buggy!
Join us at the 2006 Annual Spring Fest. This annual event shows the lighter side of higher education. It is a free event and a great opportunity for "students" of all ages to learn about forestry, physics, food, flowers and much more in two full days of hands-on-activities. It's part education, part entertainment and all fun!


Click Here for more information.
The Dick and Sandy Dauch Alumni Center will serve as the alumni hospitality area providing parking, morning and afternoon refreshments and a chance for you to meet up with fellow alumni.
April 11, 18, 25
Marion County
IMA Discovery Series Program featuring Faces, Places, and Spaces
Lori Cochran has reserved three visits in the IMA Discovery Series Program; Faces (Portraits-Clay), Places (Landscapes-Sumni-e) and Spaces (Sculpture-Found Objects) in the art labs! This program is recommended for grades 4-6. The three- part series will cost $5.00 per student, per session for a total of $15.00. Payment is due upon arrival for first visit. The dates for these visits are on Tuesdays, April 11th, 18th, and 25th from 9:30 - 11:30 a.m. She needs 20 - 30 partipants to contact the Indianapolis Museum of Art by March 11th with her final count. Contact Lori Cochran by phone at 317.897.9917 or you may e-mail Lori Cochran.
Indianapolis Museum of Art
4000 Michigan Road
Indianapolis, IN
46208-3326
April 19
Washington D.C.
DEADLINE: We The People Essay Contest for High School Juniors
This year's topic is: The First Amendment. Deadline is April 19th. First prize is $5,000!! Click Here for entry guidelines.
April 21
Marion County
REGISTRATION DEADLINE: For the 1st Annual Tree Festival at Eagle Creek Park (In conjunction with Project Learning Tree)
The First Annual Tree Festival takes place April 28th from 10:00 AM to 1:30 PM. $3.00 per student. Register by April 21. To Register call 317.327.7148 Sponsored by Indy Parks & Project Learning Tree Indiana. [Read the PDF Flyer]

May 2
Marion County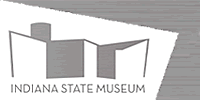 Indiana State Museum: Homeschool Workshops
Indiana and the Civil War
Homeschool  co-ops meeting the minimum number of required student participants, may schedule an educational program of their selection on an alternative date.  Mondays and Tuesdays are recommended.  Call 317.232.1637 for more information.
June
July
August
September
October
November
December